Our story.
Who we are.
The Colt Cadets are an outstanding performing group primarily made up of members in middle school and high school from Dubuque and the tri-state area. Founded in 1967, the Colt Cadets are one of the few remaining cadet corps in the country. The corps is part of Drum Corps International's Open Class. In 2006, the Colt Cadets were named Most Improved Corps in DCI Division II (now known as Open Class). In 2010, the Colt Cadets became a DCI Open Class Finalist (among the top 12 in their division) for the first time in their history. They have since earned Finalist honors several times over the past decade.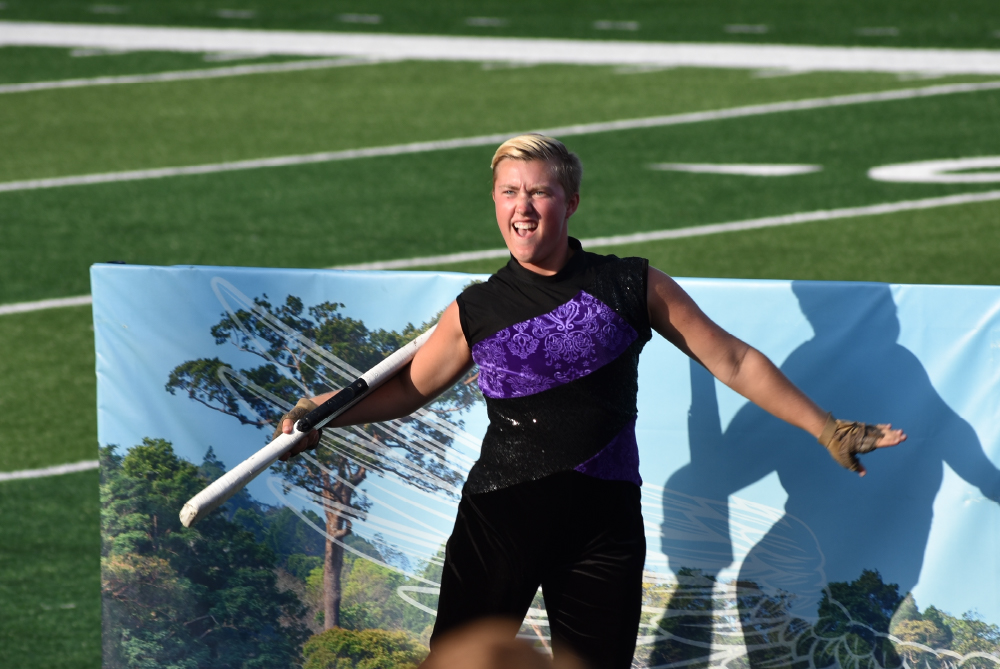 You don't need any experience to be part of the Colt Cadets!
The Colt Cadets require and help develop dedication, discipline, and motivation. Members learn leadership skills and confidence as they achieve goals they once thought were unattainable! We help develop a strong work ethic and a dedication to excellence that will stay with members in school and other activities.
School band experience is not required, but a desire to learn is. We teach the rest! Many students learn to play instruments or learn color guard (flag) skills here for the first time! We provide all instruments and uniforms.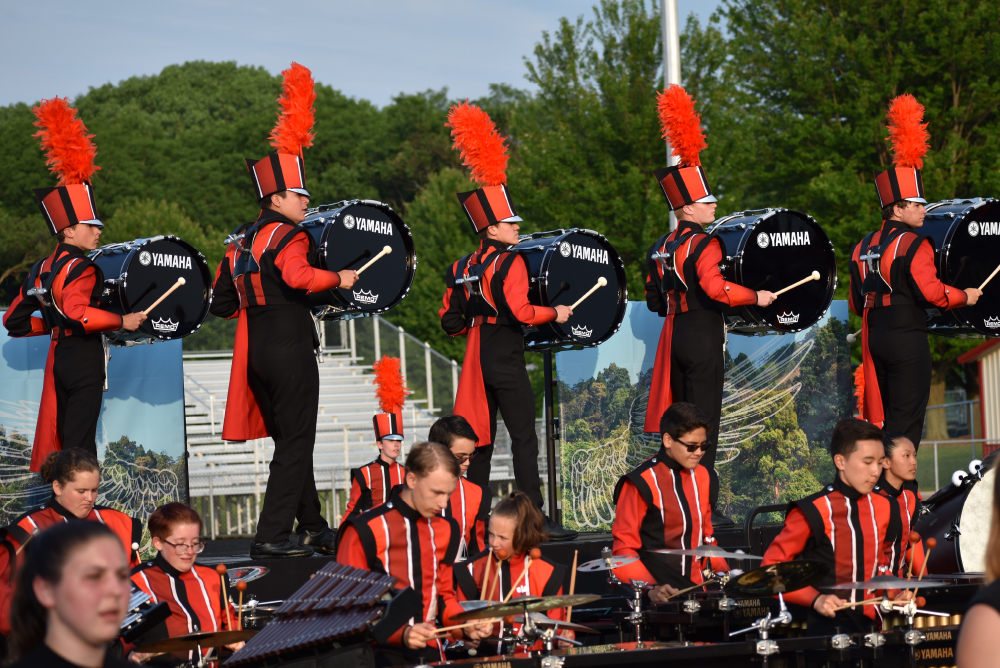 The Colt Cadets typically perform about 25 times during the summer in parades and competitions in the Midwest for more than 75,000 people. Summer rehearsals begin in mid-June, with performances booked from late June through early August. Each year, we cap off our season at Lucas Oil Stadium (home of the NFL Colts) in Indianapolis, Indiana.
During the summer, when not on the road, our rehearsal schedule consists of a combination of multi-day "camp-style" events, with all students staying together at night and rehearsing during the day. With a full week off in mid-July, students can enjoy the drum corps activity while still having free time in the summer for a family vacation. We can even help busy parents find carpools!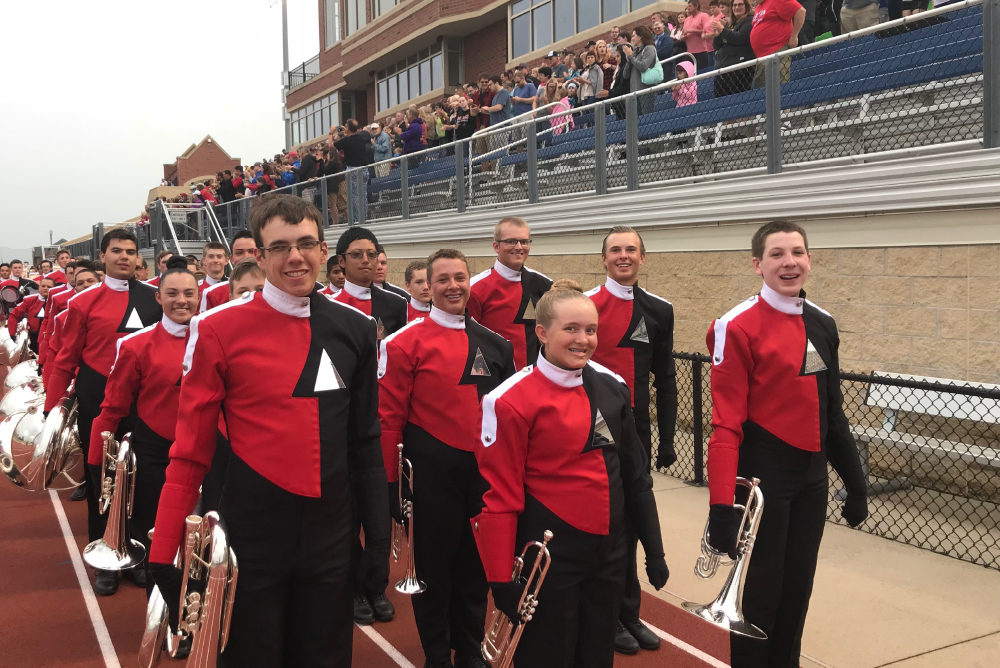 Are you an out of town student interested in Colt Cadets?
Although our program model is built to accommodate students who live within two to three hours of Dubuque, each year members in the Colt Cadets come from all parts of the country.
Contact Rich Waddington, Colt Cadets Director, via email at rich@colts.org to see if Colt Cadets is a possibility for you, even if you live two or more hours from Dubuque, Iowa.
Experienced?
We will challenge you, as well. We train advanced students to compete at a World Class level. Many members with advanced skills are featured in our summer show.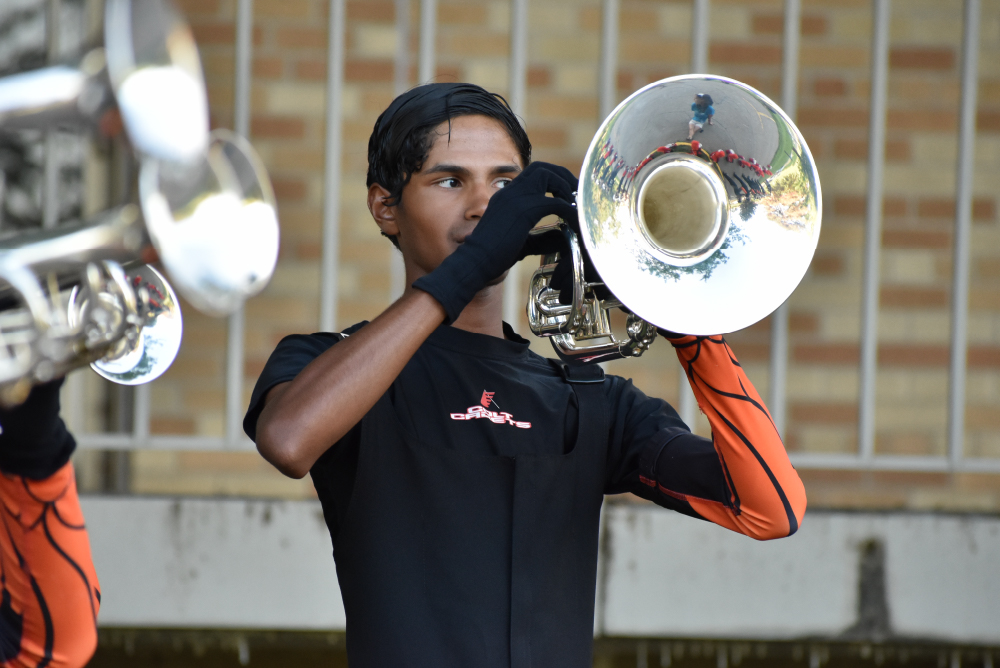 Membership Fees
Membership costs cover all housing, food, and travel for the summer. Final membership costs will be released prior to the beginning of each season. You receive a $50 discount for each additional member from the same family. Members can earn most or all of their fees through writing sponsorship letters to family, friends, and businesses in your area, as well as other fundraising opportunities.
Members receive:
Use of instruments, equipment, and uniform
300+ hours of professional instruction
Four meals per day
3,500+ miles of travel in Colts-owned charter buses
Housing while on the road
Trips to six – nine states throughout the Central U.S.
Admission to DCI World Championship events in Indianapolis
Email or call at any time with questions about any aspect of the Cadets, including financial and fundraising programs. We work hard to make membership available to everyone.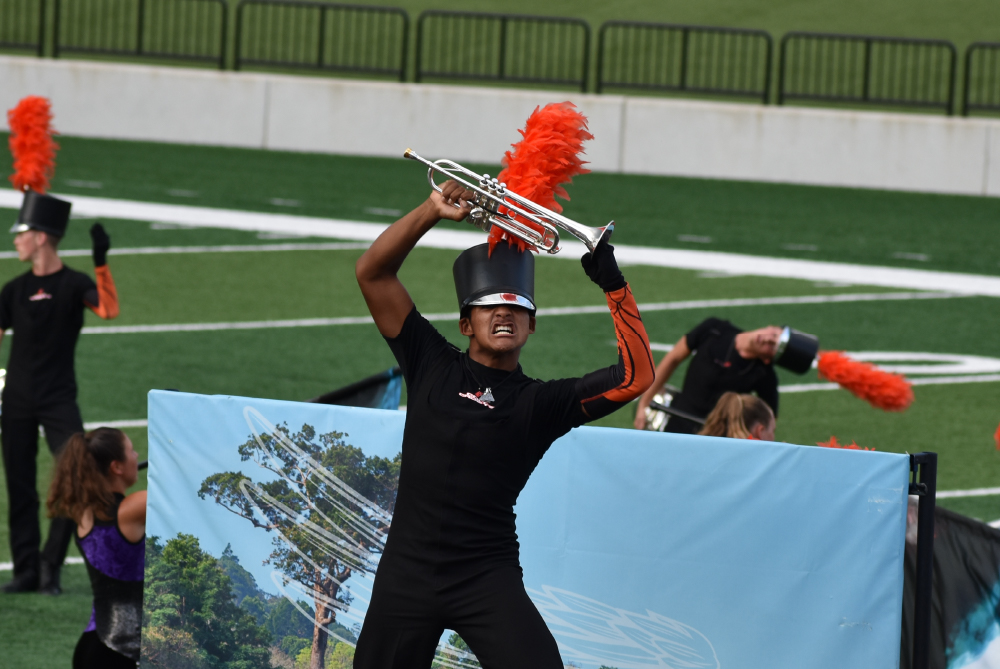 Sections
Brass
Brass members include students who currently play brass, woodwind players who wish to learn a second instrument, and those who have never played an instrument before. We use silver-plated Bb instruments (same keys as band instruments). Players who are band members use their own mouthpiece to compliment embouchure development. We use four brass instruments: Trumpet (also referred to as Soprano), Mellophone (same as trumpet in method, but sound is more like a French horn), Baritone (same sound and mouthpiece as baritone or trombone), and Contra (similar to tuba).
Percussion
We play and teach all percussion instruments. The "battery" section consists of snare drum, tenor drums, bass drums, and cymbals. The battery is the marching percussion section you see on the field. The "front ensemble" includes mallet percussion instruments such as xylophone, marimba, and orchestra bells, as well as a collection of smaller percussion instruments and cymbals. This section remains stationary on the front sideline, as their instruments are too large to carry on the field.
Color Guard
We use flags, props, and lots of dance in the color guard. This section of the corps visually interprets and enhances the music. Some woodwind players join this section, but again, no previous experience is required.
Goals of the Program
The Colt Cadets provide a positive, supportive, and educational environment that will:
Foster character development by challenging and teaching in ways that build confidence, self-discipline, work ethic, and team work.
Develop members' musical, performance, and physical skills to a level they did not know they could reach.
Support music and performance education in Dubuque.
Member Attendance
Attendance is very important for success. Each member is an equal and integral part of the whole, and any member missing is a detriment to the group's success. You should plan activities around the Cadets schedule as much as possible, but if you need to miss once in a while, we will work with you. We are very good at coordinating schedules with the members. Please speak with us regarding any questions or conflicts you might have.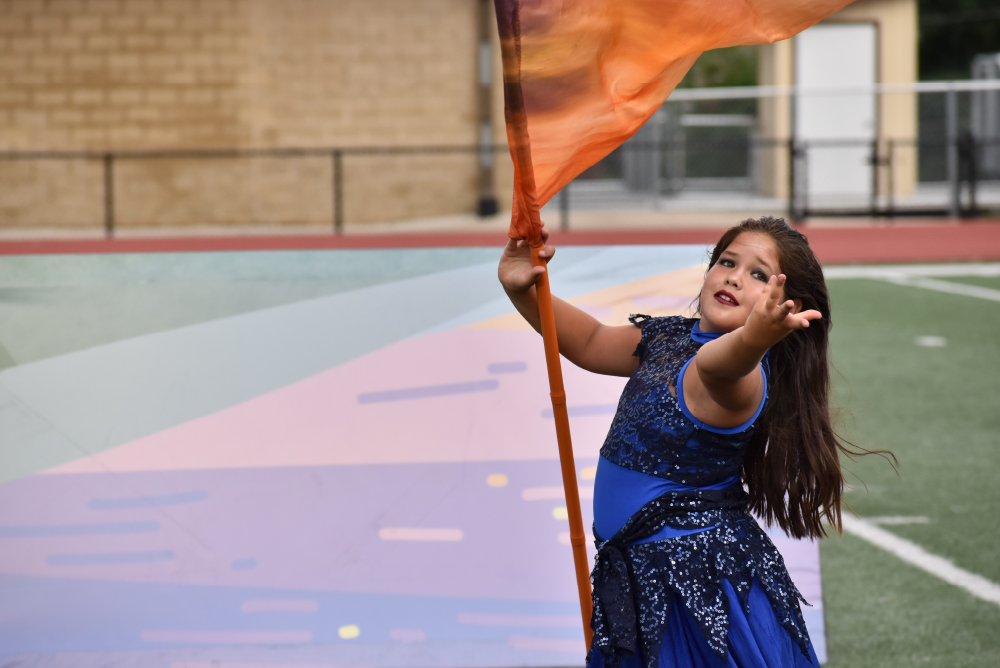 Colt Cadets Family
We reach our goals through our unique instructional environment, rehearsal structure, performances, and travel opportunities. You'll meet many new friends from other schools and from other groups throughout the country. The bonds we develop as we work together are much like a family. Some of your best friends are here, you just haven't met them yet!
Teaching Staff
Our teaching staff comes from all over the U.S. and are exceptional in their area of expertise. Most work as professional educators during the school year. The staff is experienced in preparing students for many opportunities. We put student success first! Our goal is to maintain a positive learning environment that challenges individuals to try new things and reach their maximum potential.
Parents make it work!
We actively encourage family involvement, so everyone shares the rewards of the drum corps experience. Most parents volunteer in some way with bingo, travel, miscellaneous projects, sewing, cooking, or driving. Parents are encouraged to visit rehearsals and share in what is being learned in all aspects of our program.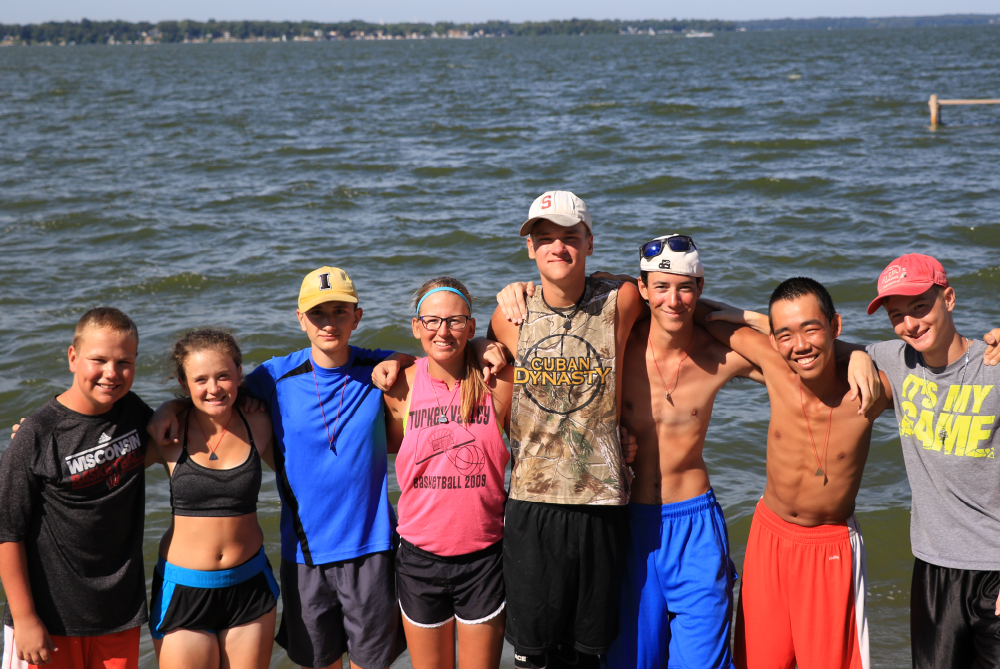 Are the Colt Cadets for you?
Try it! Your first few practices are a trial period for you. There is no obligation to join and no charge to attend. You'll be amazed at how much you learn in a short amount of time! Your first standing ovation is something you'll never forget, and what you learn in the process will stay with you for the rest of your life!
Get started