Colts Designers And Caption Heads Return For 2024 Season
October 4, 2023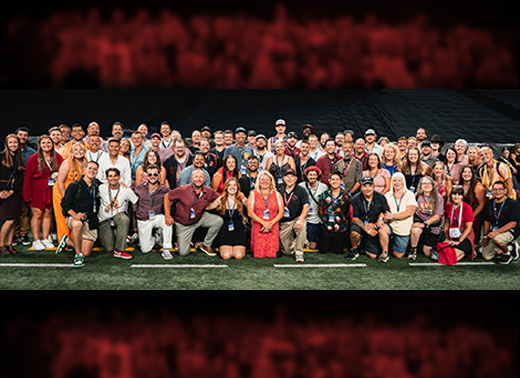 The Colts are happy to announce the return of their entire design team and all caption heads following a season in which they matched the highest DCI Finals placement in their history (9th) and scored more than 90 points for the first time ever.
"The past three seasons have shown what a consistent and cohesive design team can do for an organization," said Colts Director Vicki MacFarlane. "Members of the 2024 Colts will have something to look forward to as the success of the past few seasons continues to compound into the next!"
WGI Hall of Famer Don Click will once again be leading the Colts design team for the 2024 season as program director. Don is an accomplished designer, adjudicator, and instructor within the marching arts activity and has a career spanning several decades. Notably, he co-founded Music City Mystique and presently holds a crucial position on the WGI Executive Board of Directors. Additionally, he works as a show designer for marching bands and percussion groups across the United States.
Brass Arranger Michael Miller returns to write his fourth brass book for the Colts. He is a full-time composer with several highly acclaimed works. He designs competitive pageantry shows for indoor and outdoor ensembles across the United States and is an adjudicator for Bands of America. Before he started writing for the Red Team, Mike served on the brass staff for several years, and he continues to spend time on the road teaching each summer.
Percussion Caption Head and Battery Arranger Josh Nelson returns as the driving force behind the Colts percussion section. He also serves as the executive director of the eight-time WGI World Champion percussion ensemble, Music City Mystique. His knowledge in percussion and the activity as a whole has contributed to the success of Colts percussion in the 2022 and 2023 competitive seasons. This will be his fifth summer with the Dukes as a caption head, his second season arranging the battery book.
CJ Barrow returns as the front ensemble and electronics designer for the Colts. He joined the Colts in the 2021 season, and his presence was immediately heard in the soundscape. CJ's experience as a composer, musician, and educator has played an important role in the design team's success. He regularly works with anywhere from 40-50 clients each year, including the eight-time WGI World Champion ensemble, Music City Mystique.
Visual Designer Richard Hinshaw returns for his sixth season of writing drill for the Colts. He also writes drill for some of the top marching ensembles including the Avon High School Marching Black & Gold, Avon Indoor Percussion, and Avon Indoor Winds.
Alongside Richard, the Colts welcome back Visual Consultant Daniel Wiles. Danny is the visual and program coordinator for the three-time BOA Grand National Champion, Avon Marching Black & Gold. Danny has also served as artistic director for The Cavaliers and helped orchestrate the ascension of Carolina Crown as their visual coordinator from 2003–2008.
Leah Brown and Austin Byers both return to the Colts as choreographers. Leah, returning for her third season, is experienced in the world of dance and color guard working with several indoor and outdoor organizations across the country. Leah is the manager and training director of the Fred Astaire Dance Studios in Lake Houston in Houston, Texas. Austin returns for his second season to choreograph the brass line. Austin joined us last season and was instantly deemed a great fit within the staff. He also has an extensive background in the performing arts including experiences with other drum corps, winter guards, and a professional dance company.
The Colts color guard remains in the hands of Color Guard Caption Head Fernando Rodriguez who not only teaches, but also oversees all design aspects for the guard. Fernando ("Fergie") has been embedded in the color guard world since 2008, and the results he achieves with guards of all sizes are remarkable. He currently serves as the color guard director at Clear Brook High School where he is a four-time Texas Color Guard Circuit State Champion, a UIL State Marching contest qualifier, a BOA Regional finalist, and a WGI A Class silver medalist.
Brass Caption Head Chad Miller returns to the Red Team for his eighth year and the longest tenured Colts staff member. Chad joined us in 2017 and was immediately embraced by his brass students who have made Colts their home. Outside of drum corps, Chad is also a professional educator who gigs on tuba and bass guitar with funk/blues/rock bands in northern Indiana.
Visual Caption Head Jack Borland returns for another season with the Red Team. Jack was a part of the 2007 DCI-finalist Colts, and helped lead his former corps to back-to-back finals appearances. Jack has taught with several drum corps, WGI groups, and high schools. From teaching cymbals to choreographing, and running visual programs, one might say he is a jack of all trades and has proved himself to be a great asset to the drum corps.
IF YOU ARE A PERFORMER who would like to learn from these great educators and perform the show our creative team is crafting, check out the AUDITIONS page and follow the steps to become a member of the 2024 Colts because…YOU BELONG HERE!
Click HERE to read more about each of our designers and caption heads.
Return to Colts News.