Colts Design And Caption Heads Return After Historical Season
November 17, 2022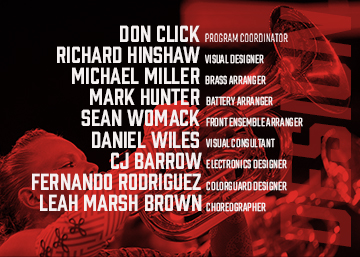 Looking to build off a historical season — returning to DCI Finals for the first time in 15 years — the Colts are thrilled to roll into 2023 with the same designers and captions heads who created such a memorable experience for our members last summer.
"After three years working together, it's great to have the chance to enter a subsequent competitive season intact. The opportunity to work with individuals you are familiar with and inspired by is especially rewarding," said Colts Director Vicki MacFarlane. "Members of the 2023 Colts are in for a special treat! Success compounds. The success of last season was bolstered by the Colts designers and caption heads working together since the fall of 2019. This team is spring loaded and ready to roll into 2023."
The design team will once again be led by WGI Hall of Famer and Colts Program Coordinator Don Click As a co-founder of Music City Mystique, Don Brings several WGI percussion medals to the design table. He currently serves on the WGI Board of Directors and works on show designs for high school bands all across Texas.
Brass Arranger Michael Miller returns to write his third brass book for the Colts. He is a full-time composer with several highly acclaimed works with the nation's leading publishing houses. Mike has many claims to fame including music written for the Super Bowl XLVIII halftime show. Before he started writing the brass book for the Red Team, Mike served on the brass staff for several years, and he continues to spend time on the road teaching each summer.
Battery Arranger Mark Hunter joins the Colts design team for his third season as an arranger after having served on the percussion staff in 2008. In addition to writing beats for several groups throughout the country, Mark also maintains an active studio of private percussion students.
Front Ensemble Arranger Sean Womack is excited to return for another season working alongside Mark Hunter on the percussion score. Sean is also a freelance percussion educator, clinician, and arranger based in Atlanta, Georgia.
C.J. Barrow returns as the electronics designer for the Red Team. C.J. joined us in the middle of the 2021 season, but his presence was immediately heard in the soundscape. We look forward to working with C.J. again during the offseason design process as he continues to create the Colts unique sound.
Music Advisor Dr. Matt Jordan shares his talented ear with the Colts while also working with WGI's Music City Mystique (front ensemble arranger) and the Bluecoats Drum & Bugle Corps (music coordinator and electronics designer). Matt has taught, arranged and performed with ensembles all over the world.
Visual Designer Richard Hinshaw has been charting drill for the Colts since 2018. He also writes drill for some of the top marching ensembles including the Avon High School Marching Black & Gold, and several WGI groups. He has also written drill for The Cavaliers Drum & Bugle Corps.
Alongside Richard, we welcome back Visual Consultant Daneil Wiles. Danny is the visual and program coordinator for the three-time BOA Grand National Champions, Avon Marching Black & Gold. Danny has also served as artistic director for The Cavaliers and helped orchestrate the ascension of Carolina Crown as their visual coordinator from 2003-2008.
Leah Brown returns to the Red Team design team for her third season as a choreographer. Leah is very experienced in the world of dance and color guard working with several indoor and outdoor organizations across the country.
The Colts color guard remains in the hands of Color Guard Caption Head Fernando Rodriguez who not only teaches, but also oversees all design aspects for the guard. Fernando ("Fergie") has been embedded in the color guard world since 2008, and the results he achieves with guards of all sizes is remarkable. We are thrilled he is returning to lead the Colts guard into 2023.
Brass Caption Head Chad Miller returns to the Red Team for his seventh year and the longest tenured staff member. Chad joined us in 2017 and was immediately admired by his brass students who have made Colts their home. Outside of drum corps, Chad is also a professional educator who gigs on tuba and bass guitar with funk/blues/rock bands in northern Indiana.
Percussion Caption Head Josh Nelson is the driving force behind the eight-time WGI World Champion percussion ensemble, Music City Mystique. He brings so much more than percussion knowledge to the Colts, and we are thrilled to have him back to begin his fourth summer.
Alumni and well-respected Visual Caption Head Jack Borland returns for another season with the Red Team. Jack was a part of the 2007 DCI-finalist Colts, and helped lead the 2022 Colts back into finals for the first time in 15 years. Jack has a long history teaching DCI and high school ensembles. We're excited to have him back on our team leading the visual program.
IF YOU ARE A PERFORMER who would like to learn from these great educators and perform the show our creative team is crafting, check out the AUDITIONS page and follow the steps to become a member of the 2023 Colts because…YOU BELONG HERE!
ClickHEREto read more about each of our designers and caption heads.
Return to Colts News.