Colts Design And Educational Teams Return Intact
November 19, 2021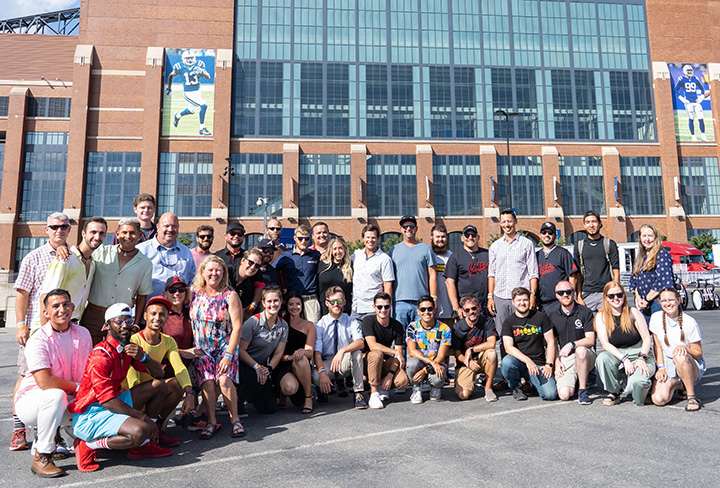 Looking to build off their incredible season — even as they faced the challenges of the pandemic — the Colts are proud to roll into 2022 with the same group of designers and caption heads who created such a memorable experience for our members last summer.
The design team will once again be led by WGI Hall of Famer and Colts Program Coordinator Don Click. As a co-founder of Music City Mystique, Don brings several WGI percussion medals to the design table (well, not literally) in managing the Colts creative process. He currently serves on the WGI Board of Directors and works on show design with high school bands throughout Texas.
Brass Arranger Michael Miller is about to write his second brass book for the Colts after serving a number of years on the Colts brass staff. He is a full-time composer with several highly acclaimed works with the nation's leading publishing houses. Mike finished his DCI membership on the podium for the Boston Crusaders, and he carries those leadership traits into the Colts design room.
Battery Arranger Mark Hunter is in his second stint with the Red Team having served on the percussion staff in the late '00s. In addition to writing beats for several groups throughout the country, Mark maintains an active studio of private percussion students.
Front Ensemble Arranger Sean Womack is excited to be back working alongside Mark Hunter on the percussion score. He also writes and teaches with several high schools in the Atlanta area.
The Colts are thrilled to hit the ground running with C.J. Barrow as Electronics Designer. C.J. came to us late in the process last summer and his presence was immediately heard in the soundscape of the Colts 2021 production. We're glad to have C.J. with us throughout the entire offseason design process.
Music Advisor Matt Jordan shares his talented ear with the Colts while also working with Music City Mystique (front ensemble arranger) and the Bluecoats (music coordinator and electronics designer). Dr. Jordan has taught, arranged and performed with ensembles all over the world.
Visual Designer Richard Hinshaw has been charting drill for the Colts since 2018. He also writes drill for some of the top marching ensembles including the Avon High School Marching Black & Gold and The Cavaliers Drum & Bugle Corps, as well as numerous WGI percussion groups.
The Colts also welcome back Visual Consultant Daniel Wiles. Danny is Visual and Program Coordinator for the three-time BOA Grand National Champion Avon Marching Black & Gold. He is currently Artistic Director for The Cavaliers, and he helped orchestrate the ascension of Carolina Crown as their Visual Coordinator from 2003-2008.
Chad Miller joined the Colts as Brass Caption Head in 2017. He is revered by his brass students who have made Colts their home. Chad is a professional educator who, in the offseason, gigs on tuba and bass guitar with funk/blues/rock bands in northern Indiana.
Percussion Caption Head Josh Nelson is the driving force behind the eight-time WGI World Champion percussion ensemble, Music City Mystique. He brings so much more than percussion knowledge to the Colts, and we are thrilled to have him back to begin his third summer.
The Colts guard remains in the more-than-capable hands of Color Guard Caption Head Fernando Rodriguez. Fernando has lived the world of color guard since 2008, and the results he was able to achieve in last year's shortened season leave us wanting more! He leads an incredible team of guard educators. And we are so excited for 2022!
Visual Caption Head Jack Borland first joined the Colts as a member of our I&E Champion cymbal line. Jack has a long history teaching DCI and high school ensembles. We're so glad to have him back on our team leading the visual program.
IF YOU ARE A PERFORMER who would like to learn from these great educators and perform a show that's been being crafted since the fall of 2019, check out the AUDITIONS page and follow the steps to become a member of the Colts. We want you to be part of the Red Team in 2022…because YOU BELONG HERE!
You can find a full staff listing here including bios and photos for each staff member.
Return to Colts News.