Colts Announce Hall Of Fame Class Of 2023
August 30, 2023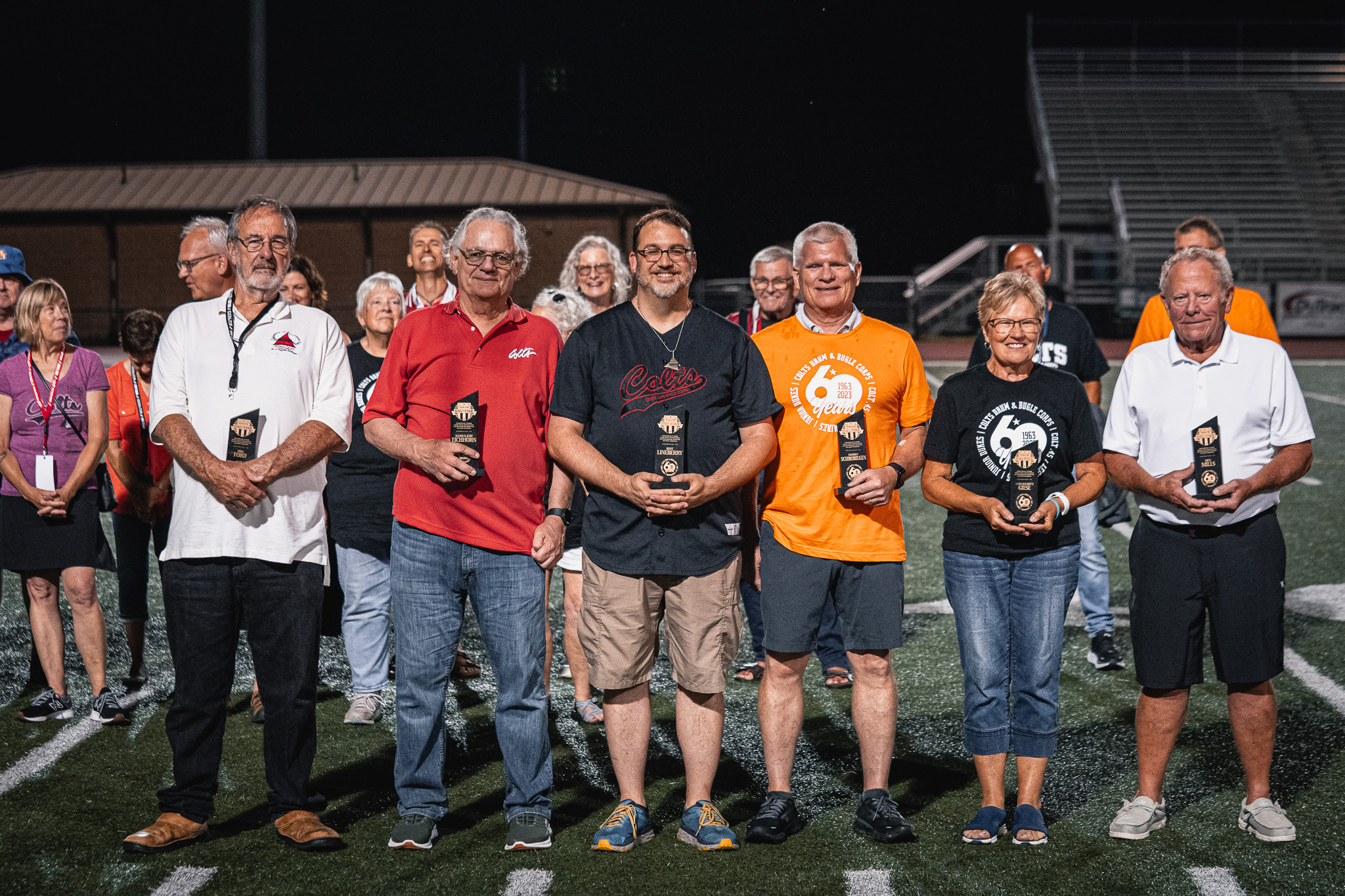 The Colts Youth Organization would like to welcome seven deserving individuals into the Colts Hall of Fame with the selection of the Class of 2023.
Randy and Judy Eichhorn have been involved with the Colts for nearly three decades.Like so many drum corps volunteers, Randy and Judy first showed up when their daughter Katherine joined the Colt Cadets in 1992. After five years in the Colt Cadets, she joined the Colts mellophone line in 1997 and marched for six more years, aging out in 2002. Both Randy and Judy were active in each of those years — helping at camps, working preseason rehearsals, and volunteering on tour — first with the Colt Cadets, and later with the Colts. Judy served as Booster Club president from 1998-2002 and was an active volunteer a the Colts bingo hall throughout that time. Randy also served on the Colts Booster Club as president from 1996-97, as well as 22 years on the Colts Corporate Board.
Tom Ford has been a volunteer with the Colts organization for over 30 years. Beginning in the 1990s when his daughter Katie was marching, Tom started driving a member bus and later transitioned into driving semis both during the season and for member camps during the winter. When Katie aged out, Tom continued his involvement with the Colts in the offseason, volunteering at the Colts bingo hall and helping maintain Colts- owned buses and other pieces of roll- ing stock. Tom has always been just a phone call away. When the corps needed a vehicle moved for audition camps or spring training, Tom was there. Whenever the Colt Cadets or Colts needed an emergency driver fo a bus or semi-trailer Tom was there.
Deb (McCarty) Giese entered the ranks of the Legionnaires in 1967, soon after girls were welcomed into the brass line. She was among the very first girls in the baritone section — the beginning of a long, proud tradition. Deb marched from 1967 through 1972, during which time the corps changed names — becoming the Colt .45 in 1968. Deb returned to the Colts later in the '70s to volunteer her services brass instructor. She taught and traveled with the corps, and managed to both inspire and make lifelong friends among this next generation of corps kids, bridging the gap between her years and theirs. During this period, she even did a stint as drum major when the current drum major was unable to perform.
Kent Lineberry is responsible for two traditions celebrated by the Colts to this day:The "triangle" each member receives at the end of the season and the playing of the corps song, "Morning."Kent began his marching carrer with the Colts druline in 1996 and aged out in 1999, having been voted "Member of the Year" and being part of a corps that made three DCI finals appearances in four years. Speak to anyone who marched during this era, and hand dwn, Kent "Sagebrush" Lineberry was a consummate leader and being a Colt was a significant part of his being. After aging out, he was an integral part of the percussion staff from 2000-05, 2007, and again from 2017-19. Member input was very impor- tant to him, even as he transitioned to being on staff. He was proactive in getting alumni, in particular older alumni, to get back into the fold and be involved with the corps.
Dick Mills served as Corps Director for the Colt Cadets from 1974-75 an again from 1977-78. His unwavering commitment to success was evident from day one and his military background made him a tough, brash, and demanding leader. He expected dedication from each and every member, leaving no room for mediocrity. It was clear that success was not just something the corps should strive for — it was inevitable that he expected us to achieve.Beyond physical exertion, Dick instilled in the members a burning desire to surpass insurmountable odds. As a 70-member Cadet corps with modest skills, he would ignite spirits and encourage members to compete against larger and admittedly more talented corps, despite the overwhelming challenges we faced. His ability to inspire members to dream big and strive for the impossible was truly remarkable.
Darren Schrobilgen has a long history in the organization starting in 1974 as a drummer in the Colt Cadets before joining what was then the Colt .45 in 1975, where he was one of a small number of veterans who returned year after year. Darren spent eight years in the percussion section before aging out in 1982, starting as a cymbal player and subsequently playing timpani (on the last marching timp line!), tenor and snare drum. He joined the percussion staff for the 1983-84 seasons, a period when he was also performing in the Hawkeye Marching Band with many Colts, Emerald Knights and Geneseo Knights.During his time in the corps, darren emerged as a key leader within the drum line in particular and throughoutthe corps in general. It was a vital time for a corps evolving from weekend shows and parades to touring for the bulk of the summer season. Leadership within the ranks played a crucial role during that transition.
Please join us in honoring this amazing group of individuals who have dedicated so many years to the Colts Youth Organization. Our congratulations to all!
Click here to view a full listing of Colts Hall Of Fame members.
Return to Colts News.