Colts Introduce Three New Full-Time Staff
October 27, 2022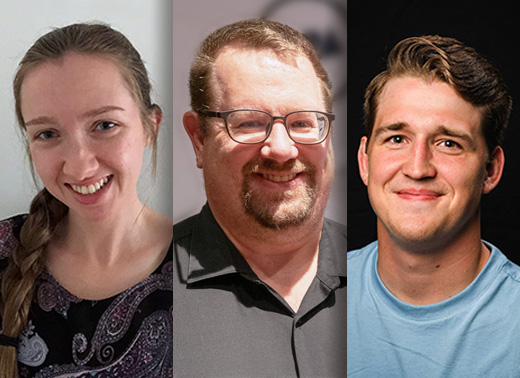 The Colts Youth Organization is excited — and in a couple cases long overdue — to introduce three new full-time staff members to join Vicki and Jeff MacFarlane in the year-long operation of the organization's youth music programs that include the Colts Drum & Bugle Corps, Colt Cadets Drum & Bugle Corps, Colts Summer Band, and Colts World Percussion.
Kathleen Ballard joined the organization in May 2022 as assistant corps director. She will lead the Colts summer admin team in planning and executing the 80-day tour for the DCI World Class corps. In the offseason, Kathleen will provide operational support for both the Colts and Colt Cadets including recruiting, audition events and camps, member relations, housing, and all the other preparations necessary to create an outstanding member experience. Kathleen worked with school nutrition programs in New Jersey prior to joining the Colts. She played and taught marching cymbals — which, of course, endeared her to us even more!
No stranger to Iowa music education, Alan Kiser joined the organization in June 2022 as director of finance and events, and Colts World Percussion director. Alan handles the day-to-day bookkeeping for the organization, and he also provides support for the DCI summer tour events sponsored by the Colts. Alan taught high school band for many years along with a variety of percussion ensembles — most recently at Cornell College in Mount Vernon, Iowa. As soon as he joined the Colts, he jumped in to provide support to the Colts Summer Band where he served as co-director in the ensemble's first season since returning from the pandemic shutdown.
In October, the Colts added a fifth full-time staff member to serve in the role of media and marketing director. Alex Gant is a former member of the Colts mellophone section and a recent graduate of Illinois State University. He has been serving the organization in a part-time capacity doing social media, photography, and video work both in the offseason and on Colts summer tour. We're excited to have Alex onboard to share our voice across all platforms and expand our capacity to tell our story. Alex will handle website details, email marketing, and social media content creation along with other areas of operational support.
Find out more about each of our new staff members here.
Return to Colts News.