Colts Announce Hall Of Fame Class Of 2021
August 1, 2021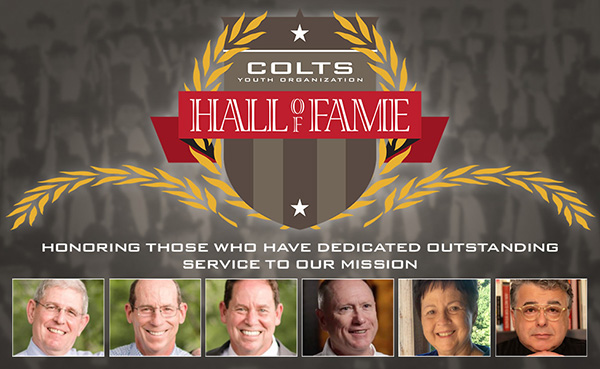 The Colts Youth Organization will send six deserving individuals into the Colts Hall of Fame with the selection of the Class of 2021. This year's inductees cover nearly every decade of the organization's history.
The Boland Brothers combined for 33 years of marching experience with the organization. Tom (known as T.J. is his corps days) was an original member of the Junior Dukes on baritone. Paul started in 1964 on soprano but moved to the drumline the next year. In his final season (1975), he both played snare drum and served as instructor for the drumline. Tim was an original member of the Colt .45 Cadets in 1967. He was an anchor of the snare line in the Colts until aging out in 1977. He went on to teach the Colt Cadets percussion section.
Michael Cesario had a profound impact on the identity of the Colts in the middle 2000s. He had a clear vision for the look and style of the corps on the field. Michael's uniform design for the 2007 corps (now affectionately known as the tiger stripes), along with a beautifully designed program, Equinox, returned the corps to DCI Finals finishing the season in 10th place.
Mona Enstrom pushed the Colts food program to new heights. We are known to have one of the best food programs in DCI and Mona helped set that standard. She had a wonderful rapport with the membership, and she would spend weeks on tour including many years after her own children aged out.
Jim Mason's leadership, determination, commitment, and originality made an indelible impact not only on the Colts, but the drum corps activity as a whole. He served as corps director from 1977 through 1984. He later joined a new drum corps created by Bill Cook named Star of Indiana. Jim parlayed that success into starting his own company, Mason Entertainment Group, who produced the Tony Award-winning musical, Blast.
Please join us in honoring this amazing group of individuals who have dedicated so many years to the Colts Youth Organization. Our congratulations to all!
Click here to view a full listing of Colts Hall Of Fame members.
Return to Colts News.