Colts Collaborate With Dubuque Middle School Band
February 18, 2020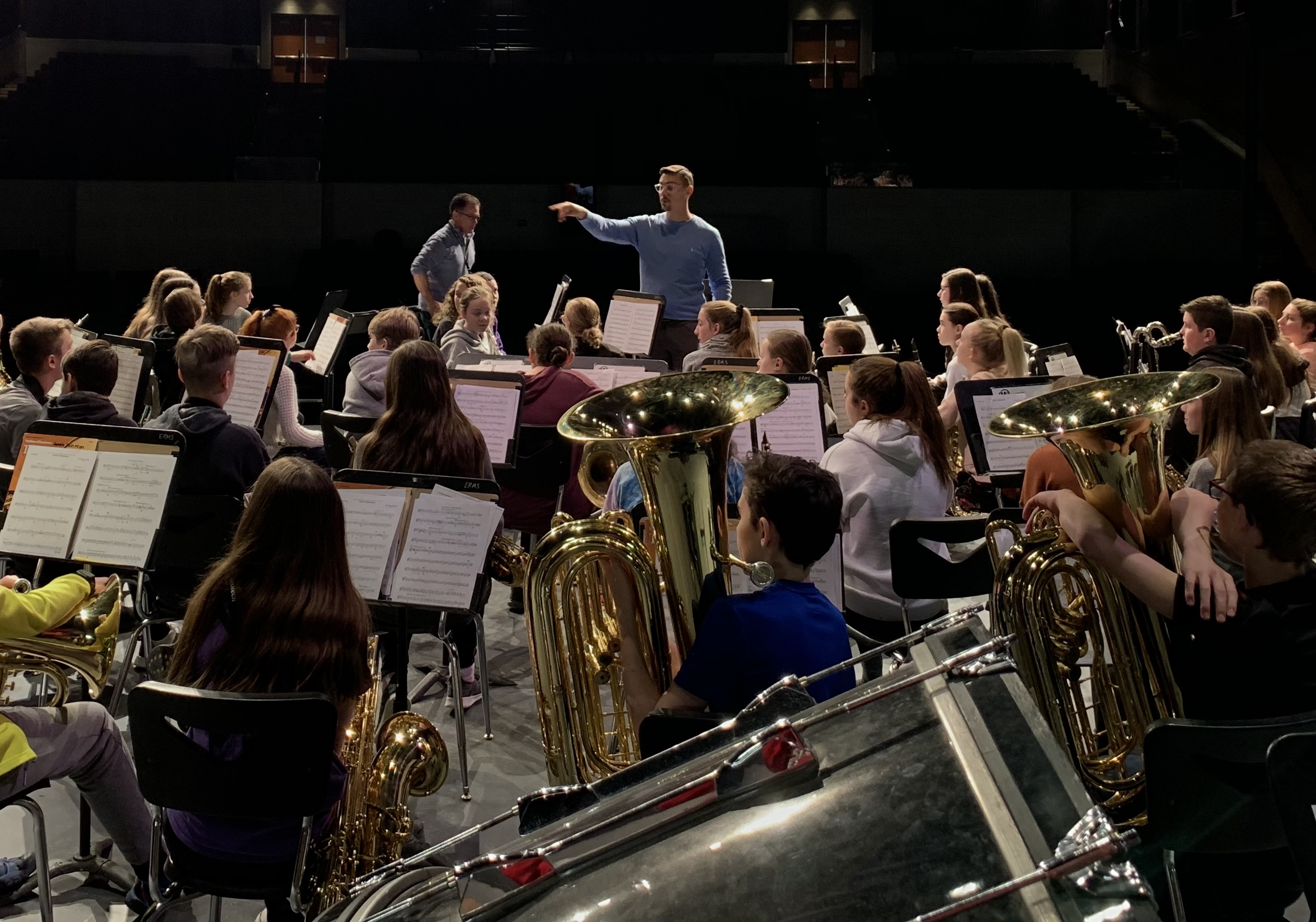 As the Colts Drum & Bugle Corps spent last weekend preparing for their summer season, members of their staff made time to help a local band prepare for its upcoming concert and contest.
Colts Director Vicki MacFarlane reached out to Eleanor Roosevelt Middle School about rehearsal space for Feb. 14-16. What first appeared to be a conflict quickly turned into an opportunity to coordinate a clinic for Dan Norman's 7th/8th grade band.
"I was looking at the district calendar and realized they had a band event that day," MacFarlane said. "I was curious what they were up to, so I reached out to Mr. Norman, and it seemed like a prime opportunity to combine our forces."
During Saturday morning, Rich Waddington worked with the band on two of their concert selections. Prior to taking on his role as director of the Colt Cadets Drum & Bugle Corps, Waddington taught bands at Bondurant-Farrar High School and Oskaloosa High School for more than 18 years.
"We worked on quite a few different concepts, including tone production and singing their parts," Waddington said. "They were flexible with a different seating arrangement, and they took it all in stride. They're one of the best-sounding middle school bands I've ever been around.."
After the ERMS students ate lunch with Colts members, David Abrams warmed the band back up with breathing exercises and techniques. Abrams is a Breathing Gym specialist, and he spends his time outside of the Colts teaching low brass students and marching bands.
Next, Colts Brass Arranger Michael Miller led the ERMS band through rehearsal of one of his original compositions, which the band is preparing for contest in March.
"Music, to me, has always been about making personal connections," Miller said. "The reason I do music is because I was inspired at a young age by my teachers. I specifically enjoy being that person for the next generation of student musicians."
Norman said he usually hosts a clinic once a year to provide students with other perspectives before band contest. Waddington and Miller said they appreciated the students' attentiveness throughout the day.
"The students were really engaged and enthusiastic," Miller said. "Sometimes you work with students and they can be more closed off to strangers, but these kids were really receptive."
Overall, Norman said the event was a success, and he appreciated the work the clinicians put in.
"They put high expectations on the kids, and they did so in a very positive way," Norman said. "I enjoy watching good clinicians, and I got a lot out of it, too. It was one of the highlights of my career."
After the middle school students finished their day, they had the opportunity to watch the Colts rehearse.
"I think it's especially beneficial for the middle school students to watch rehearsal because our members aren't that much older than them," Miller said. "I think they can relate to our members, and because of that, they can get some inspiration from seeing their peers achieve a much higher level of performance."
Norman said he appreciates having a resource like the Colts in the community.
"I've known the Colts since 1993," Norman said. "People are always polite, willing to help and willing to go out of their way for other people. There are things that are landmark for communities, and I think the Colts are a positive part of Dubuque."
The ERMS band will perform in concert on March 3 at 7 p.m., and they will host the Northeastern Iowa Bandmasters Association Middle School Large Group Festival on March 5.
The Colts will continue their season in April with a three-day rehearsal at Stephen Hempstead High School. The Colt Cadets will host an open house rehearsal on Sunday, February 23 from 1-5 p.m. at Table Mound Elementary School. For more information, visit colts.org.
Return to Colts News.