Vicki MacFarlane Recognized With Women Of Achievement Award
April 25, 2018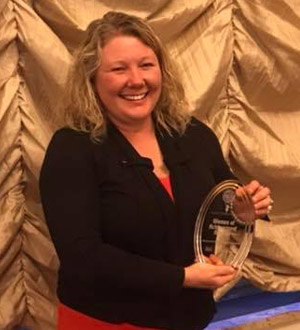 Last week, Colts Director Vicki MacFarlane was recognized by the Women's Leadership Network of Dubuque for service and support of nonprofit work. Vicki was one of nearly 50 women in the Dubuque area nominated for several awards through the organization, and was one of two to receive recognition for nonprofit work.
"I am very thankful for the recognition from the Women's Leadership Network and for the support from those around me," said Vicki. "It's always wonderful to have the Colts story shared with others. Tonight was a great opportunity to tell the story of the Colts, and the drum corps activity, with the local community."
Vicki was nominated by a group of board members and volunteers who submitted a letter of support to the Women's Leadership Network. Her nominators write, "Vicki is a remarkable leader. She is a passionate educator. She is a compassionate mentor. She is an attentive listener. She is a motivator. She is the engineer that has masterfully taken all the moving parts of this well-respected youth organization on the road to represent the people of Dubuque and Iowa. Vicki's job description is a difficult task to define, but it is Vicki's steadfast leadership that allows it all to happen."
Vicki was a member of the Colts in 1994 and 1995 as a baritone player. After a few years teaching band in eastern Iowa, Vicki began volunteering with the Colts. This led to a teaching position with Colt Cadets in 2001, and then being asked to be the Colt Cadets director for the 2002 season. The corps in 2001 had 18 members, but by 2012 had over 75 members and was a perennial Open Class finalist. While director of Colt Cadets, Vicki also served as chair of Drum Corps International's Open Class Advisory Committee for several years. For the 2013 season, Vicki became the director of the Colts, and is currently entering her sixth season as director. In addition, she serves as director of youth programs for the Colts Youth Organization and is a member of the IN STEP: Women In DCI initiative.
The Women's Leadership Network (WLN) is comprised of women who have a special focus — they are leaders, entrepreneurs, and professionals with a sincere commitment to their careers, their families, the community, and their own personal growth. Members meet monthly to network with other members, participate in workshops, and learn from guest speakers. The WLN has been recognizing women in the Dubuque area for outstanding leadership, service, and growth since 2012.
Return to Colts News.