Alumni Feature
:

1993 Colts

April 1, 2018
1993 was a special year for the Colts, and one that still stands proudly in the memory of anyone assicated with the corps throughout the years. This month, we had several alumni and staff share their memories of that incredible season. Below are some of the many stories these four individuals, and many others who were a part of that season, shared with us.
From Steve "Slim" Delaney, Colts Member 1974 - 1982; Staff 1983 - 1988, 1990 - 2001; Colts Hall Of Fame Class Of 1995
About this time 25 years ago, the Colts design team and instructional staff were busy putting together the "Four Seasons" show. It was without a doubt an upgrade from the "Four Seasons" show of the prior year, and staff thought it was going to be pretty good. Hopefully, good enough to get the corps into the Friday night show – Semifinals – later in the season at the Drum Corps International World Championships in Jackson, Mississippi. That was the goal before the competitive season began – to advance beyond the Thursday Quarterfinals and into Semifinals. As it turned out, there was a better ending for all of us who were a part of the 1993 Red Team.
Everyone is familiar with the ending to the story - a 12th place finish at the Drum Corps International World Championships. Finals. Performing on Saturday instead of sitting in the cheap seats. The improvement from 20th in 1992 to 12th in 1993 is still one of the largest year-to-year improvements of any corps in the activity.
I didn't play a large role that year, coming in on weekends and saving summer vacation from my day job to tour with the corps whenever possible. My job was to make sure the percussion line moved their feet together. They did, and many viewers, including some judges, remarked that our drum line was one of the best marching drum lines in the country.
One night, about midway through the season, we drove from one place in the Midwest to some other place in the Midwest (they all end up looking the same). Those staffers who finished the drive typically found a local diner for a meal before sunrise, something we called the "breakfast club." That morning, I was sitting with Corps Director Greg Orwoll and Program Director Jeff Bridges, and between coffee and pancakes, we spent a lot of time talking about what a special team we had. The staff was incredibly passionate about the season, and the members repeatedly exceeded the goals we set out for them. I mentioned that, as the season had progressed and we kept climbing, my buddies that I marched with back in the day were constantly calling me (on landlines - there were no cell phones back then). "What's going on?" was the typical question. "They're really good" was the typical response.
Greg and Jeff asked if I'd give a talk to the corps before the show the next night to offer up some perspective on where the corps came from, how special this team was, and the attention it was garnering from a lot of people. I don't recall all of what I said, but I do recall reminding the students that the foundation for the 1993 team was set by the previous years' corps, we were just witnessing all that work come to fruition now. I also noted that, while there had been many Colts teams before them, and there would be many Colts teams after them, this was their team and their year. And, come the third week in August, it would all be in the history books, and they'd have to ask themselves if they did all they could to make the most of the experience.
Turns out, they did.
From Beth Wilson, Staff 1984 - 2010; Colts Hall Of Fame Class Of 2003
What I remember most about 1993 was the achievement of something that many people (perhaps even ourselves?) thought was impossible.
The most often heard comment about the 1993 Colts (from others) was "they came out of nowhere." Well, everyone knows that that simply isn't true, and it is never true about a group that seems suddenly successful. There were years of hard work and struggle to become the corps that "came out of nowhere." The plan in 1990, according to Jeff Bridges, was to make Semifinals in 1993 and Finals in 1994. I guess we overachieved and skipped a year.
Saturday morning there was a panic among the staff - not about the show or the kids, but rather about what to wear. None of us - nobody - had brought something suitable for Finals. So, we made a mad dash to the mall. It was Steve Huggins, Ron Coleman, Becky Thurston (Uffie), maybe Leah Ratliff, and myself. I have never bought a black dress and heels so quickly. Just for the record - I still have that black dress, and the receipt from the purchase. Yes, I'm a nerd. That summer still has the best memories with some of the best people I can imagine.
To the kids that stuck around - especially after 1991 - I was so happy for them, that their belief in the corps paid off.
From Christian Baughman, Colts Member 1991 - 1996; Colts Hall Of Fame Class Of 2017
What can be said about a "Cinderella Story?" We were the little corps the could. There are so many memories from that summer, it's hard to narrow it down to just a few to share. Here are a few of my favorites, though. A small selection of the many stories from that summer, but I think these are things some may not know or remember about that summer.
One of the most unique parts of the preseason was when the drummer from The Tonight Show Starring Johnny Carson, Ed Shaughnessy, came to visit. I think it was at our March camp, and we played "Summertime" with him. I'm still not totally sure how he ended up in Dubuque that weekend, but it's still one of my favorite camp memories. That camp was also the last time I played mellophone in the Colts brassline - the next camp I was on the podium conducting. I vividly remember my first camp as drum major, and one moment in particular. We were in music ensemble, outside one of the Dubuque middle schools. It was probably drizzling (doesn't it always rain on April camp weekend?) and I was watching Miki Sato, a first year front ensemble member from Japan. While conducting, I remember thinking, "this experience is probably as foreign to me as it is to her." In fact, I thought it may have been easier to be Miki at that moment. By the end of that summer, I had finally learned how to be competent on the podium, and she had not only learned English, but had taught us all some great Japanese curse words. There is nothing like diving in the deep end to learn to swim.
The summer was a crazy ride, as it always is every season. The corps made great leaps forward competitively, and a little extra push for us came from an unlikely source. Sometimes, it takes an outside voice to tell you how good you really are. One night in July, DCI judge Rich Nicola requested to talk to the corps. After the show, we were all gathered around the cook truck to hear straight from a DCI judge, which was a very rare opportunity. He spoke at length about how special our show was, how special our moment was, and how special the corps was. It was truly a pivotal moment in the summer, after which many of the members started to believe that making a historic run into the top 12 was really a possibility. Rich's challenge line was, "now is your time to seize the Golden Chalice." We all knew exactly what that meant.
Aside from motivational speeches from a wide variety of sources, competition with other corps was also a major factor that summer. The official line from the corps leadership was always "just be your best, be better today than you were yesterday, and leave the schools cleaner than you found them." However, in the back of one of the busses, Scott Weber had a list of all the corps who had finished above the Colts in 1992. As the season progressed, more and more corps were crossed out. Scott was always good at saying what everyone else needed to hear, but might have been afraid to say out loud. It was a super exciting (and motivating) part of the summer to watch those corps who had beaten us for so long be crossed off that list.
By the last week of the season, the corps was truly committed to being the best they could possibly be. The staff and the members were constantly pushing each other to be better, and each day you could really see how much the corps improved. You would think the staff would want to continue this and try to squeeze every element of rehearsal out of the corps on the brink of making finals, but Wednesday night Greg Orwoll took the whole corps to see a movie. The choice was "Rookie Of The Year" and it was another Cinderella Story about a 12 year old with a gifted arm who ends up pitching for the Chicago Cubs and taking them deep into playoffs. It was a cheesy movie, but it certainly ended up inspiring real life later that week.
Waking up on Saturday morning and knowing we were going to be able to perform one last time was truly an indescribable feeling. One of the coolest moments of that morning was waking up to a huge banner posted above the cook truck. The hand painted banner read "Bluecoats Welcome The Colts To The Top 12" and had both corps logos on it. We were the first new corps to break into the top 12 in a few years, and it meant a lot to us to have a perennial finalist send that gesture. I've always respected and cheered for the Bluecoats since then.
From Chuck Naffier, Member 1980 - 1984; Staff 1985 - 1987, 1990 - 1999, and 2014 - 2015; Colts Hall Of Fame Class Of 2003
It all began innocently enough, with enthusiasm and a sense of knowing this time was going to be different. A large returning membership from 1992 created a strong base on which to build the corps. The staff truly was on another level - they were gelling not only as creative and teaching partners, but as life-long friends who truly enjoyed the ride and the activity.
A couple of highlights that still stand out for me…
The winter:
We we knew we wanted to create a show based on a concept about changing seasons and were struggling to come up with an opener. After several months of looking, our percussion arranger, Jerry Carpenter, suggested that I "just write an original composition." This shocked me, because I'd never written anything in my life, and certainly had no background with composition. However, it set the wheels in motion. Dean Musson, one of the brass instructors, threw out the idea of building off the end of the 1992 show with a musical quote from "Carol Of The Bells." The idea took off, and eventually morphed into a series of melodies and impacts that ultimately created "Winter," our opener for the show.
With three of the four seasons down, we were now having trouble finding a suitable piece for summer. We as a staff kept avoiding the obvious - we were hesitant to try to recreate what the previous generation of Colts had done. Under Corps Director Jim Mason, the Colts had played Gershwin's' "Summertime" from Porgy And Bess for three years in a row (1980 - 1982). But, no matter what we tried, we kept coming back to "Summertime." Finally, we shook off our hesitations and went full steam ahead with "Summertime." It really felt like putting the final piece of the puzzle together - the show really clicked now, and we knew we were on to something special.
Now, all we needed were a couple of hot-shot soprano soloists. Enter the Weber brothers. Scott and Eric, Iowa natives and multi-year vets, took on the challenging of wowing crowds across the country every night that year. If you could hear the initial recordings of their auditions from February of that year, you would definitely be wondering what we were thinking. But, those boys went home and dedicated themselves to making it happen. I've never been more proud of two performers in my life.
That winter, Ed Shaughnessy, the drummer from The Tonight Show Starring Johnny Carson, visited us at our March camp. He played with the corps on "Summertime," and later asked me if he could sign something for me. That autograph with the cover to my brass scores that summer still hangs on my wall to this day, with a personal note from Ed, which I am humbled by daily.
Like anyone who was with us that summer, there are an infinite number of memories from that summer. Just a few that I love to relive, and I'm sure everyone from that year loves as well:
In both 1991 and 1992, Frank Williams (a member of the Drum Corps International Hall Of Fame) was a brass consultant for the Colts. He was also the brass caption head for the The Cadets of Bergen County, and had made his appearance on the Drum Corps International stage with the incredible Suncoast Sound horn lines in the 1980s. He came in to guide us and answer questions about thing from daily teaching and warmup brass routines, to how to effectively hold a critique when trying to move up. One night in June, at a show in Michigan, Frank was there with The Cadets, who were on immediately before us. After our opening impact, Frank RAN back into the stadium and sat down next Dean Musson and I and proceeded to tell us how incredible the hornline looked and sounded.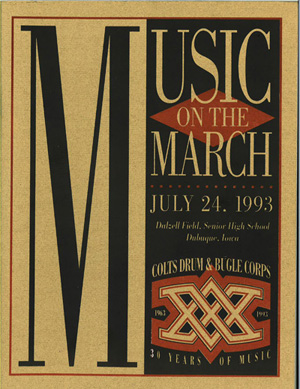 At our home show in Dubuque, the Colts celebrated our 30th anniversary and alumni from every era were there. As the corps performed, every impact was greeted with screams and every emotional moment held breathless attention. There were tears from alumni and looks of disbelief as the audience reveled in the best Colts they'd ever seen. It was no doubt a declarative performance that sent shock waves throughout the activity that night. I've still got a recording of the show, and it brings tears to my eyes to this day.
In early August, we were in Kansas and had an exhibition show, as well as a big picnic with the Glassmen and the Railmen. The Glassmen had been our rival all season long, with us constantly leapfrogging each other in placement. That night, the Glassmen and Colts performed for each other, with the corps' brass staff serving as judges. This relaxed evening showed both groups were truly in this activity for the right reasons, and were all doing this as friends. The evening was a rare chance for us to relax in the heat of a very competitive season.
Finals week was a truly incredible experience for the corps. Heading into Quarterfinals, we had our sights set on The Velvet Knights. We hadn't beaten them all season, and they were a crowd favorite. Fortunately, the crowd loved the Colts even more! We finished in 13th that day, but only 0.4 out of Finals. Returning to the housing site, we immediately got to work, knowing the next 48 hours would be a blur. There was no celebration, just a more determined corps. Celebrations are for when you're done, and we weren't done yet.
On Friday, we kept our routines the same, knowing that routine was our friend and it had gotten us this far. One thing changed during Finals week - one thing which I think still made other corps scratch their heads. We warmed up in an area far away from the other corps. No one saw us do our thing. No one saw us prepare. We were an unknown. The busses pulled up to the stadium, the members filed off the busses in full uniform, and immediately headed to the starting line. The corps was as close to perfect as they were going to be, and they truly lit the place up.
We all waited in the end zone - many members were too nervous to make eye contact. Staff shuffled their feed in the dirt. Brandt Crocker was announcing the scores (as he always does) and we held our breath as he started listing scores off. The Colts had already been announced at an 84.2 (our highest score to date). As Brandt slowly listed off the scores, we heard "The Velvet Knights… with a score of… 83 point…" and the rest was lost in the screams of joy from the corps. It wasn't until later that night we realized we had tied with the Glassmen for 11th place. We knew that we had achieved a once-in-a-lifetime goal – put a drum corps from Dubuque, Iowa into DCI Finals. And, we did it as friends. We did it without tearing others down. We did it with joy. We did it through fierce determination and setting goals that were lofty.
There's a picture of us all next to one of the vans the day of Finals. It's still one of my favorite pictures. I'll always remember my friends from that year, the members, every minute on the road, and how much we learned, celebrated, built trust among ourselves, and set the standard for every future version of the Colts. I will cherish that year, and that group of people, forever.
After the 1993 summer, Chuck Naffier put together a video commemerating the season. You can view the video on YouTube by clicking here. Thank you to Chuck for sharing the video all those years ago, and for allowing us to share it digitally now!
Return to Colts News.