Colts Announce 2018 Drum Majors
August 23, 2017
The Colts are proud to announce their drum majors for the 2018 season: Jack Riehl and Elijah Elmshaeuser.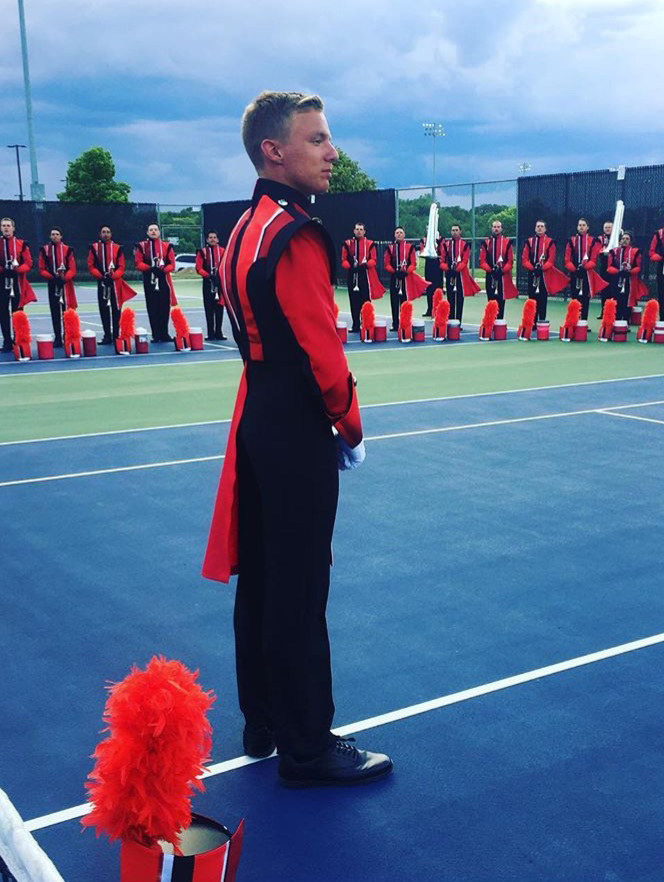 Jack Riehl began his drum corps career with the Colts in 2014 in the front ensemble and is entering his fifth season with the corps, having spent three years on marimba and vibe and this past season as drum major. Originally from Westerville, Ohio, Jack previously marched five seasons with his high school's marching band and indoor drum line. While at Westerville North High School, he spent three of the five seasons as percussion section leader. In the 2016 season of Winter Guard International (WGI) season, Jack was a member of the front ensemble of ConneXus Independent, an Independent Open Class finalist group based out of Delaware, Ohio.
Currently, Jack is attending the University of Cincinnati College of Medicine, where he is pursuing a degree in medical sciences. Outside of his studies, Jack is an active member of Health Occupations Students of America (HOSA), an international student organization focused on leadership and technical skill development in the medical and health fields through workshops, trainings, and competitive events. During the fall and winter seasons, he is a front ensemble instructor with the Milford High School band in Milford, Ohio. Following graduation, Jack plans to continue to medical school and become a pediatric surgeon.
This past season, I learned a lot about the role of being drum major and the discipline, teamwork, and communication it takes to be successful in the role. I couldnt have asked for a better team to help me along the way. The way this group gels together from the top down is absolutely incredible and unlike any other group I have been a part of. I cant wait to push all of this momentum into the 2018 season and lead the Red Team on a successful journey."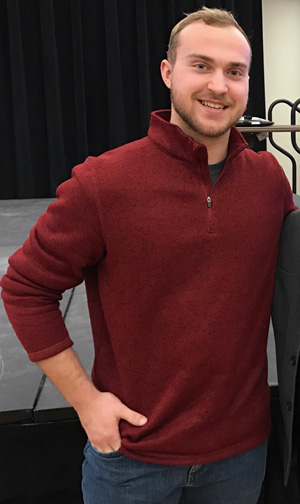 Elijah Elmshaeuser is entering his second season with the Colts, having spent this past summer in the trumpet section. He currently attends the University of Nebraska - Lincoln, studying mechanical engineering. Following the completion of his degree, Elijah would like to work behind the scenes of movies designing sets and special effects. Outsde of school, Elijah is on the student leadership team of the Cornhusker Marching Band and is an active member of the Big Red Express.
Elijah was born and raised in Ogallala, Nebraska, where he attended Ogallala High School. While there, he participated in band, choir, speech, drama, mock trial, and baseball, as well as several student organizations. In his free time, Elijah enjoys rock climbing, flying drones, playing intermural sports, and watching movies.
"After one season with the Colts, I was blown away with the amount of growth in the organization. We have a great staff who cares passionately for its members and works hard to bring excellence to the corps. I am thrilled at the opportunity to become drum major and to work with an amazing staff. The Colts are headed in a great direction and I cant wait for the 2018 season.
"The drum majors are truly the heartbeat of the organization, in so many ways, and having student leadership at the helm with as much talent, passion, and dedication as Jack and Elijah will be an incredible asset to the 2018 Colts," said Program Coordinator Howard Weinstein. "Not only will their strengths compliment each other, they each bring a unique ability to bring the very best out of their peers both on and off the field. I could not be more excited to work with these brilliant young leaders."
"The structure of the leadership program that Howard has brought to the Colts has already allowed these two students to excel, and it will be wonderful to see them continue to shape the culture of the corps through their own actions and by guiding their peers," said Corps Director Vicki MacFarlane. "They both bring such passion, dedication, and selflessness to the table and are already great leaders by example. I am especially excited to work with Jack in his second year as he continues to apply the lessons learned and skills acquired from his first summer as drum major. These two students have incredible potential to refine what it means to be a Colt and live out that meaning in day to day life."
2018 Audition Information
Audition information for the 2018 season will be out soon! Make plans to audition at a camp and become a member of the 2018 Colts. To be sure you learn about audition dates, locations, and materials as soon as they are available, fill out an Information Request to be added to the Colts mailing list.
Return to Colts News.