Visit The Colts At The Illinois State University Invitational Marching Band Championships
October 21, 2016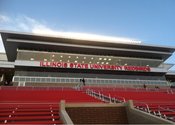 The Colts are excited to have a booth this year in the exhibitors section of the Illinois State University Invitational Marching Championships. The competition will be held on Saturday, October 22nd at Hancock Stadium in Normal, Illinois and will feature of 40 of the best marching bands from Illinois. The first band will begin at 7:00 a.m. and prelims competition will end at 6:30 p.m., followed by finals performance for the top 12 bands in the state. The competition will also feature a performance by the Big Red Marching Machine, one of the top college marching bands in the country.
"With so many of our members, alumni and staff active within the marching band circuit in Illinois, this event is a great chance for us to reconnect with familiar faces from past years and recruit for the next year," said Colts Director Vicki MacFarlane. "Additionally, the band programs in Illinois are some of the best in the Midwest, and an event like this allows us to have direct contact with hundreds of students from across the state."
The exhibitors section will be located on the main concourse on the home side of Hancock Stadium. The Colts booth will be on the east end of the concourse. Students interested in marching in the Colts or Colt Cadets are invited to visit the booth, register, and ask any questions they may have about performing with the Colts organization. There will be posters to pick up and videos from past years will be playing throughout the day. Band directors are also encouraged to stop by and learn more about the Colts and the drum corps activity.
Colts 2017 Membership Information
The Colts 2017 membership brochure is now available online. CLICK HERE to view a PDF of the 2017 Membership Information.
If you are interested in becoming a member of the 2017 Colts, click the JOIN button on the top of the home page, and follow the step-by-step instructions. Be sure to RSVP for camp, as well!
To read more about the 2017 audition weekend schedule and expectations of interested students, CLICK HERE.
Return to Colts News.