2017 Membership Information Now Online
October 17, 2016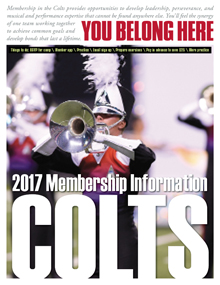 The Colts 2017 membership brochure is now available online. CLICK HERE to view a PDF of the 2017 Membership Information.
In addition to the membership information, the Colts have announced audition dates for the 2017 season. New this year is an additional November audition camp in the Kansas City area. Students can choose which November camps works better for their schedule. The Kansas City camp will be held November 18-20, and the Dubuque, Iowa camp will be held the following weekend, November 25-27. The expectation is all interested students audition at one of the November camps and plan to return to the December camp. Legitimate conflicts are excused, provided there is communication in advance. Email colts@colts.org with any individual questions.
Rehearsal weekends typically begin with check-in and unloading at 7:00 p.m. on Friday and conclude around 4:00 p.m. on Sunday. Below are the 2017 rehearsal and audition dates:
November 18 - 20, 2016 | Perry, KS (Audition Weekend)
November 25 - 27, 2016 | Dubuque, IA (Audition Weekend)
December 16 - 18, 2016 | Dubuque, IA (Audition Weekend)
January 13 - 15, 2017 | Dubuque, IA (Brass and Percussion Only)
February 17 - 19, 2017 | Dubuque, IA (Brass Only)
March 17 - 19, 2017 | Dubuque, IA (Brass Only)
April 28 - 30, 2017 | Dubuque, IA (Full Corps)

A rehearsal and audition weekend is more than just an audition. You'll play all weekend and perform on Sunday as part of The Colts. If you need help finding a ride, please call the office (563-582-4872) or email colts@colts.org.
The cost for your first rehearsal is $175 (or $125 for returning members), which includes all audition materials and application fees. Pay the fees for your first camp in advance and SAVE $25. PAY ONLINE HERE. The deadline for advance payment is the Tuesday immediately prior to each camp at 11:00 p.m. Each subsequent weekend you attend is $60. This fee covers the cost of these rehearsals and does not apply toward your summer tuition.
If you are interested in becoming a member of the 2017 Colts, click the JOIN button on the top of the home page, and follow the step-by-step instructions. Be sure to RSVP for camp, as well!
More detailed information about each camp will be posted at least two weeks prior to the camp date.
Thank you for your interest in the 2017 Colts!
YOU BELONG HERE.
Return to Colts News.