Colts Name Noah Perkins Drum Major For 2016 Season
November 19, 2015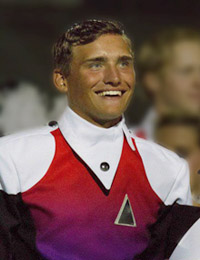 A fifth-year member from the brass section, Noah Perkins will gain a new perspective on the drum corps activity from the perch of the Colts podium. Colts Director Vicki MacFarlane and Program Coordinator Howard Weinstein are confident Noah's character and leadership qualities are a perfect fit for the job left vacant by recent age outs Kara Metzger and Cole Hanton.
To gain a better understanding of the 2016 Colts leader, we recently asked Noah to share a little bit about himself, his love of music, and his belief in the Colts.
My name is Noah Perkins. I'm 19 years old studying trombone performance at the University of Iowa, and a four-year member of the Colts baritone section. I also marched four seasons in high school, and one season in college with the Hawkeye Marching Band. I am incredibly honored to be named drum major, and cannot wait to see what the future has in store for the Colts.
As a senior in high school, I saw Wycliffe Gordon and his combo live at a jazz club in Iowa City. The raw energy and passion he performed with changed my outlook on music entirely. I had heard repeatedly in drum corps and elsewhere that music is about "making the audience feel something," and seeing Wycliffe was when I truly realized what that meant.
I was taken to drum corps shows at a very young age although I have no memory of them. My dad marched six years with the Troopers. In 2011, I went to a drum corps show in Davenport, Iowa, and knew then I had to give it a try. My parents have always been supportive. I share the drum corps experience with my sister who has been a member of the Colt Cadets color guard since the time I joined Colts. It's a connection we share that a lot of siblings don't get to. We have definitely grown closer as a result.
My outlook on the activity has changed notably with every passing summer. In the first and even second summers, everything was incredibly exciting and a bit overwhelming. To be honest, I struggled during those years and it's helped me become who I am today. During my third season I learned to relax and enjoy the ride while still working desperately to be excellent. Last summer taught me a lot about what I want in life, and how to push myself even when I think I've hit my limit.
I can't wait to work with the group of educators and designers on Colts staff in 2016, especially those with such excellent track records. The brief time I've spent with Howard has already changed my perspective on drum corps and what it can do for us as individuals. I'm also looking forward to the change from marching member to drum major, and facing a new set of challenges and experiences. I am truly honored to be part of the legacy of Colts drum majors, and I cannot wait to see how excellent the corps can be this season.
Return to Colts News.