A Great Trumpeter, Colts Fan, And Father Leaves The Stage At 83
July 28, 2015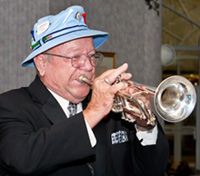 On Sunday, July 26, 2015, the Colts were left with a trumpet hole and this time around there would be no replacement. Bud MacFarlane was a wonderful man. He entertained thousands through the years with his musicianship, and I would like to use this opportunity to tell the world a little bit more about him.
Bud had a subtle delivery on the trumpet. From Dixieland to big band to the families' holiday favorites, his syncopated style was smooth as butter on a warm day. His tone was pure unless slightly bent to add a bit of style. He also sang the likes of Frank Sinatra and Bobby Darin with a mellow sound that pulled you onto the dance floor. He rarely took center stage although he had all the skills if asked to do so. For more than two decades he was part of The Country Kings, although the group played little country. Instead, they had a big band sound with all the instrumentation and were among the most popular acts at dance halls throughout the Midwest in the '60s and '70s. I was always proud to watch him perform.
My oldest sister, Jane, joined the Colt .45 Drum & Bugle Corps in 1969 at the urging of her friends at Wahlert High School. There she would one day meet her husband of 42 years, Jim Kohl. My Dad would soon be driving the family all over the country to watch the group compete. Shortly after, my older siblings joined her as I waited anxiously to reach the required age of 11 to join the Colt Cadets. By 1973, all four of my older siblings were members of the Colt .45 and I was a Colt Cadet. We were a drum corps family. Somehow my Dad managed to see many shows between his regular job and the band gigs he played most every Saturday night. He remained a drum corps fan through the years although he preferred the older style with songs covered more closely to their original arrangement. He loved the patriotic tunes. Watching the San Antonio regional on Pay Per View, he told me his idea for the greatest drum corps show of all time. I'm not sure it had everything the judges look for these days but I'm pretty sure he was right that audiences everywhere would rise to their feet in appreciation. And for that, Bud, we rise to our feet to salute you.
My Dad was creative, a problem solver, an artist in many sorts of ways, and a diligent worker. He was meticulous is every endeavor whether fine-tuning his golf game or shaving a sliver off his wood working project to get everything just so.
He was a quiet man who preferred to lead by example rather than with words. He treated those around him with respect, and he lived with a level of integrity that will always be the standard I aspire to. He shared love in the simplest ways....often with a subtle wink of an eye that let you know he was with you in mind, body and spirit. He was absolutely best friends with his wife, Ruth ("Cookie"), with whom he celebrated their 62nd wedding anniversary in May.
There was a television advertisement some time ago that said, "Like Mike...if I could be like Mike," after the great NBA star Michael Jordan. As I continue my journey through life, I can only hope to wake each day and pursue my goal to be "Like Bud....if I could be like Bud."
Thank you for taking a minute of your time to learn about my Dad.
Arrangements for Gerald J. "Bud" MacFarlane are being made at the Miller Funeral Home in East Dubuque, Illinois. More information is available HERE.
Return to Colts News.