Colts Announce 2014 Program
March 5, 2014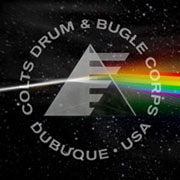 From the creative minds of program coordinator, Marc Sylvester and writer/storyteller, Wayne Harris, comes a story of a quite different Emerald City.
The 2014 Colts proudly present..."Dark Side of the Rainbow."
CLICK HERE to read the full announcement, view the video trailer, and download cool 1920x1080 desktop backgrounds for PC or laptop.
CLICK HERE to view the Colts 2014 design and instructional staffs.
Return to Colts News.