Iowa Governor Culver Recognizes Colts and Colts Cadets
June 3, 2007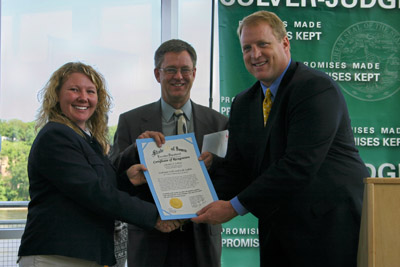 The Governor was in Dubuque attending to a series of functions, including the proclamation presentation. The event came together quickly, and on three days notice, all but 8 of the Colt Cadets were on hand for the presentation and to perform a concert for the Governor and many state and local officials. The event took place during a school day, and members took school time off to perform. Rarely have members been asked to miss school for either the Colts or the Cadets, but with such an educational opportunity available to the kids, it was worthwhile.
Cadet members in attendance represented 31 different schools in the Dubuque area. The 70-strong Cadets sounded and looked impressive, and both the Governor and Dubuque Mayor Roy Buel took time to listen to the entire show, and talk with and meet many of the members and parents as well.
The proclamation states "In the name and by the authority of the State of Iowa, Chester J. Culver, Governor of the State of Iowa hereby officially recognizes Dubuque Colts and Colt Cadets as "Iowa's Ambassadors of Music". The proclamation futher states "On behalf of all Iowans, we salute the members, parents, staff, and volunteers of the Dubuque Colts and Colt Cadets and wish them continued success".
Long-time Colts fan and City Councilman Ric Jones said, after hearing the Cadets "Are you sure this is the Cadets and not the Colts? Wow!"
Return to Colts News.