Music On The March | Dubuque, IA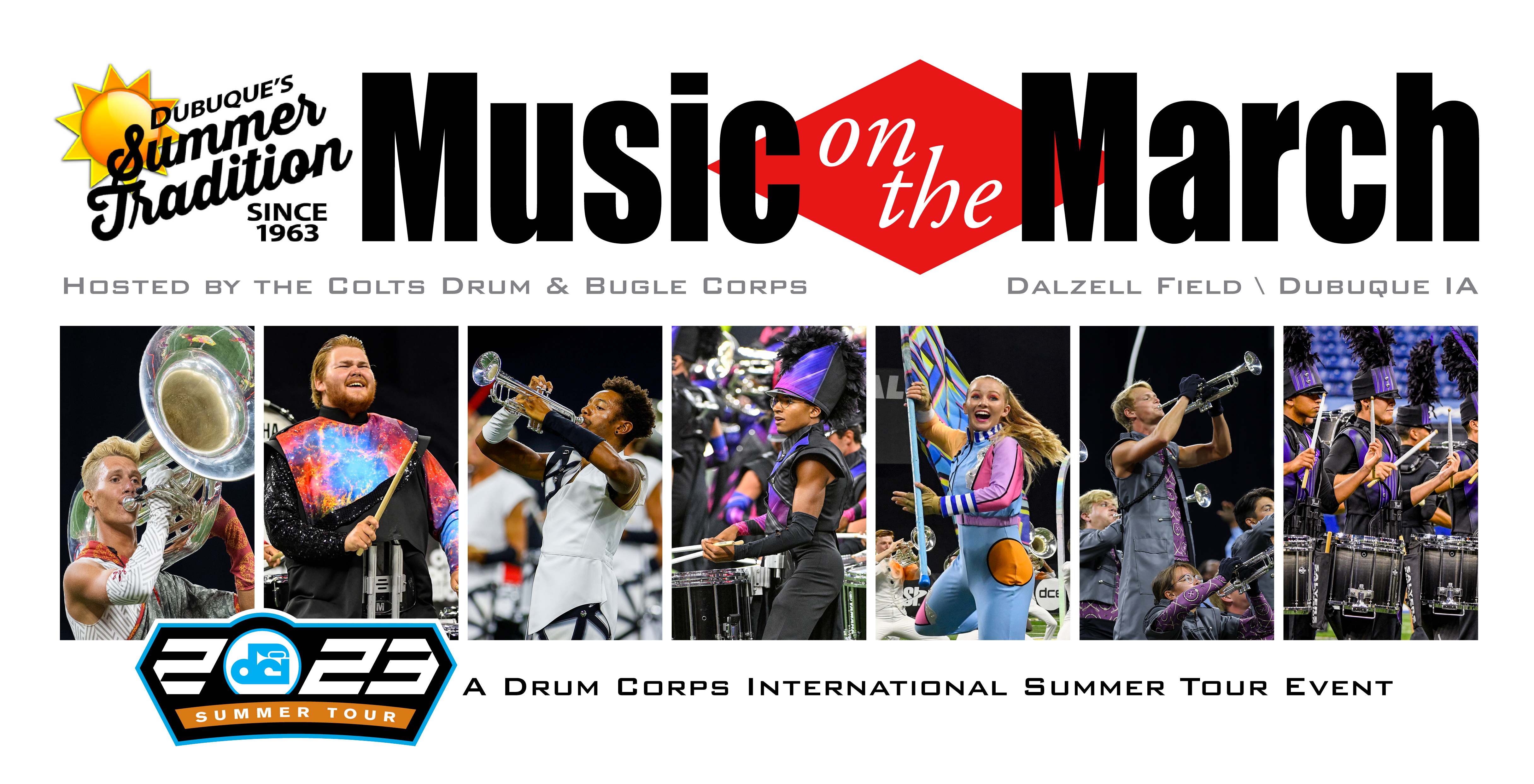 ---
Show Information
FRIDAY, JULY 14, 2023 @ 7
:

00 PM

Dubuque Senior High School, Dubuque, IA \ Google Map to the stadium.
Stadium box office opens at 3:00 PM. Gate opens to the public at 5:30 PM.
IN COMPETITION
Colts \ Dubuque, Iowa
Colt Cadets \ Dubuque, Iowa
Blue Stars \ La Crosse, Wisconsin
Phantom Regiment \Rockford, Illinois
Crossmen \ San Antonio, Texas
Madison Scouts \ Madison, Wisconsin
Genesis \ Austin, Texas
River City Rhythm \ Anoka, Minnesota
Conquest \ Geneseo, Illinois \ DCI SoundSport (exhibition)
Plus an encore performance by the Colts followed by our Age Out recognition!
Music On The March has been a Dubuque summer tradition for over 50 years. The show is held in the beautifully-renovated Dalzell Field on the campus of Dubuque Senior High School. Tickets are available in both reserved seating (VIP, Super Premium and Premium) and first-come, first-served sections (General Admission, Accessible and Alumni Deck). Tickets are assigned according to the date/time orders are received. ORDER EARLY TO GET THE BEST SEATS!
Tickets for Music On The March 2023 are ON SALE NOW and will be processed in the order received. Tickets will begin mailing on May 1 and then daily through July 6. Tickets ordered online after Thursday, July 6, will be held at Will Call at the stadium box office. Advance ticket sales close on Wednesday, July 12, so the ticket operation can be transferred to the show site. Quantity discounts are available for groups of 20+. Email: tickets@colts.org
Due to the strict travel schedule of the corps, no rain date or refund is available. However, the corps respect the importance of giving their fans a show and will do everything possible to reach that goal. Questions? Contact the Colts Ticket Desk at tickets@colts.org or by calling 563.582.4872.
ENJOY THE SHOW!
Click here for a map of the stadium showing VIP parking and ticket booths. WILL CALL will only be available at the booth on the east side of the stadium.
Tickets Available Online Through July 12
Groups of 20+ take 10% off. Groups of 50+ take 20% off.
---
VIP | $45
VIP tickets include more spacious seating atop the center section (orange), VIP parking pass, and a $5 coupon for Colts souvenirs.
---
Super Premium | $33
Super Premium tickets are great seats in the lower center section and top (green) surrounding the VIP section.
---
Premium | $28
Premium tickets are very good seats in the lower sections just off center and top outer sections (blue).
---
General Admission | $22
General admission seating in the outer sections (yellow) is available first-come, first-served on the day of the show.
---
Alumni Deck | $25
Alumni Deck tickets on either side of the press box is a standing room patio deck with only a few small benches (gray). This is a great area for alums to mingle and visit between performances.

---
Accessible | $25
Wheelchair accessible seating is available at the top of the lower sections of the stadium (purple). Small benches are adjoining for guests of wheelchair patrons. Tickets in the Accessible section can be purchased in advance. Seating at the stadium will be first-come, first-served on the day of the show.
A processing fee of $3.75 is applied to each order.
ORDER TODAY!