As winter turns to spring and the excitement of summer draws near, the Colts are excited to announce a step forward into a new era of Colts history. World-renowned uniform designer Michael Cesario created a BOLD NEW LOOK for the 2017 Colts. Cesario has a strong history of uniform design within the drum corps activity and has been designing for the Colts for many years. He pioneered the triangle concept found in many modern uniforms, which featured the lighter colors on top and a fade to the darker colors. This design debuted for the Colts in 1986. Since then, Michael has designed several uniforms for the Colts, including the "Colts Triangle" design (2000 - 2006), the "Tiger Stripe" design (2007 - 2012) and the "Rainbow Fade" design (2013 - 2016).
The organization has secured funding for 2/3 of the uniform costs, but now we need your help!
To Donate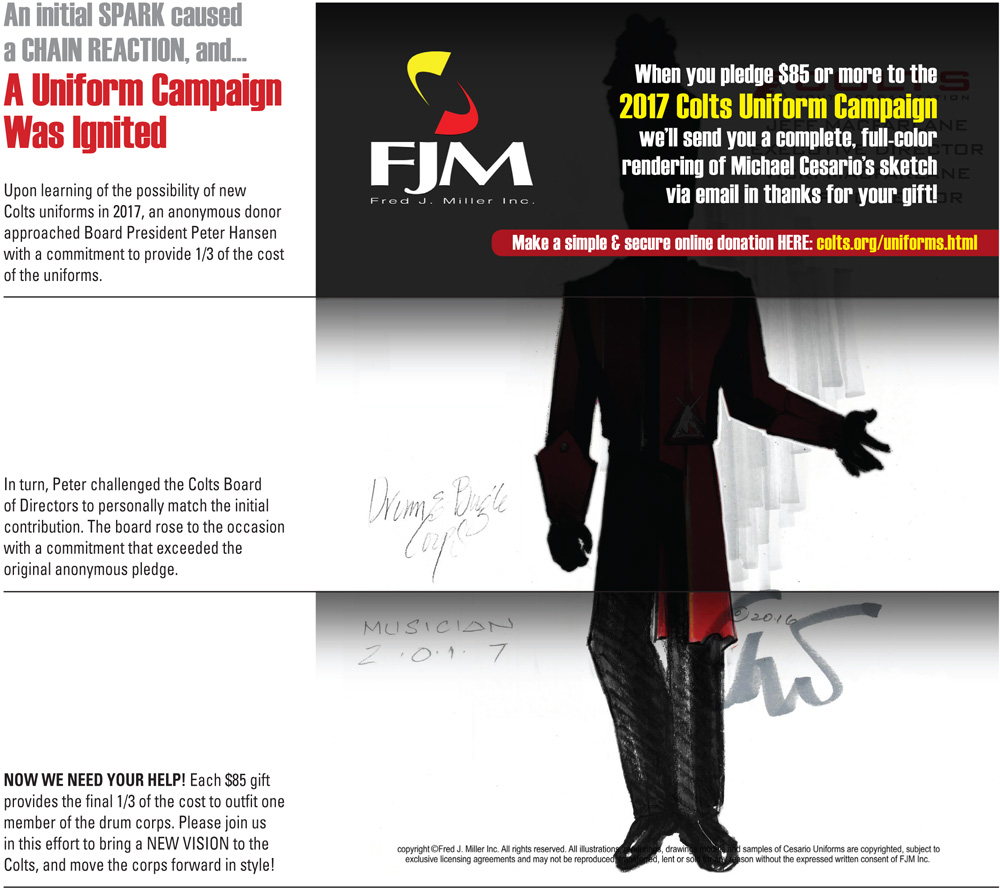 The Colts estimate that the cost of the base uniform will be $255. The final 1/3 of each uniform, then, would be $85. So with each gift of $85, you will be outfitting one member of the 2017 Colts and contributing to a new era of Colts history!
When you pledge $85 or more to the 2017 Colts Uniform Campaign, you will be emailed a complete, full-color rendering of Michael Cesario's sketch in thanks for your gift!
The Colts will debuit the new uniform design at the annual Memorial Day Parade on Monday, May 29, 2017 at Washington Park in downtown Dubuque.
Donor Recognition
To recognize all donors to the 2017 Colts Uniform Campaign, a Donor Recognition board will be hung on the doors of the Colts equipment trailer so members can see the wonderful support they received in making the uniform vision a reality. The board will read:

"FJM made your uniforms. These people made it happen!"
While specific giving levels will not be listed, donors will be recognized in a type size that represents the amount of their gift. In order to have the donor recognition board ready for summer tour,
uniform donations must be received by May 1st
. Uniform donors will also be listed in the Music On The March program in July. Thank you for your support!