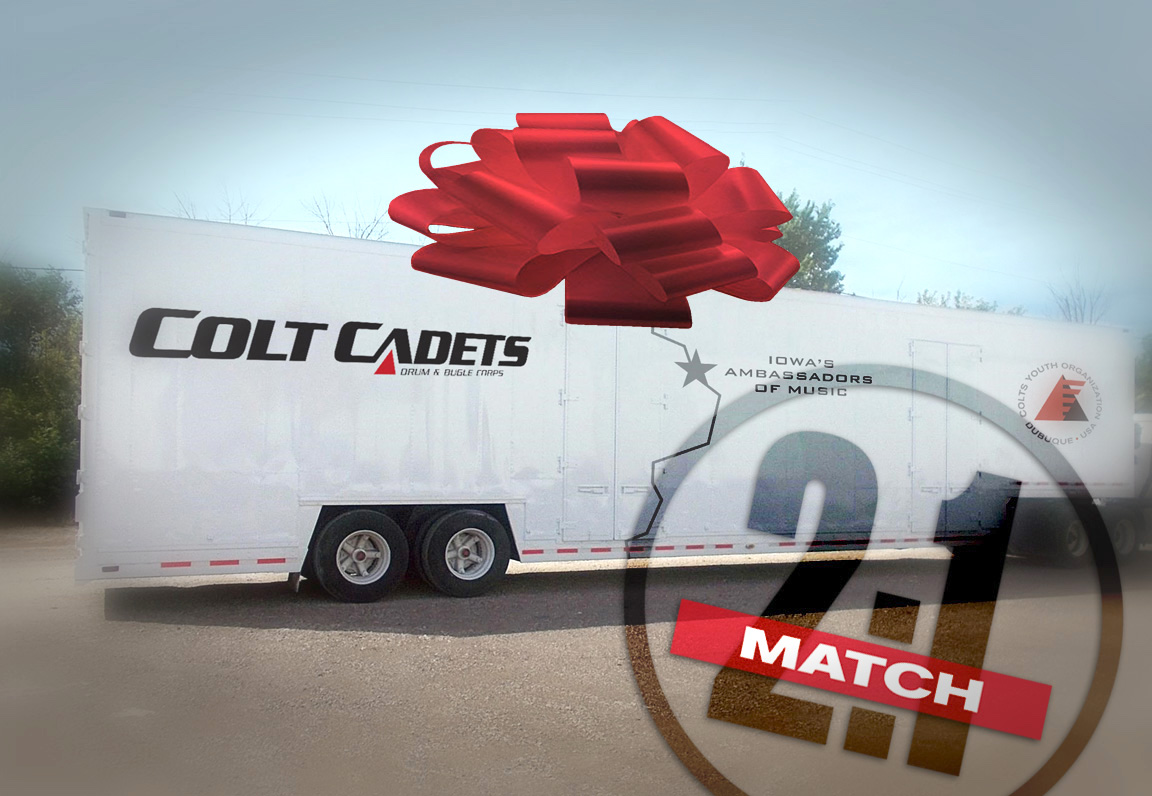 Help Us Complete Our Capital Campaign!
Last year, thanks to the generosity of more than 200 donors, the Colts were able to replace both semi-trailers that support the Colts summer tour. The trailers were on the road this past summer and greatly improved the efficiency of our touring operations.
This year, we're moving forward into a second phase of the campaign, which will provide a similar trailer upgrade for the Colt Cadets. Thanks to the generosity of a group of long-time supporters, last month we purchased a gently used 53-foot semi-trailer. The trailer is only about 10 years old — it is in excellent condition and will meet the needs of the Colt Cadets for many years to come.
DONATE NOW
But, we need your help! Right now, the trailer is an empty shell — full build-out will cost an additional $35,000. This will allow us to create a 'hybrid' trailer that will hold Colt Cadets instruments, uniforms and equipment in the rear 2/3 of the trailer, while a kitchen area occupies the front 1/3. Our talented volunteers will do nearly all the construction, but your financial support is needed so we can make this a reality.
If you've been on tour with the Colt Cadets in recent years, you know how much effort went into setting up and tearing down the cooking setup with our old trailer. Everything had to be carried in and out of the trailer, the oven had to be pushed up and down a ramp, and all supplies were crammed into small storge areas. The design of the new trailer allows the ovens, refrigerators, can rack and more to be permanently located within the trailer, providing a huge increase in efficiency and improving safety, as we won't be moving heavy items in and out of the trailer.
How can you help?
You can celebrate #GivingTuesday by making a donation on December 3 through Facebook. The link to contribute is here. You can also give directly on the Colts Mall by following the link here.
Triple your gift! Thanks to the generosity of a group of board members and supporters, every gift made on #GivingTuesday will be matched with a 2-for-1 donation! Your $25 gift turns into $75! $200 will become $600! $1,000 (think big!) becomes $3,000!
Quadruple your gift! And, if you really want to maximize the value of your gift, starting at 7:00 AM Central Time on Tuesday, Facebook will provide $7 million in matching funds for any donation. This means your donation could experience a 3:1 match! Your $125 donation is guaranteed to become $375 (Colts 2:1 match) and might turn into $500 if you also get the Facebook 1:1 match. Either way, that's a big win for the Red Team!